Better Prepare our Children for the Future



Aim, Aspire, Achieve
Greetings to all beloved Parents, July 2017


As educators, we are determined to help children reach their full potential to prepare them for the world where success will require more flexibility, creativity, innovation, and social intelligence than ever before.

We aspire to provide the best possible learning experiences for all children irrespective of their strengths, challenges or needs. Working with excellent staff team we have the ability to ensure that every child achieves the very best.

A broad and balanced curriculum promotes the love of learning, encourages academic, creative, intellectual, physical and spiritual growth and achievement. Through many hands-on experiences such as reading, stories, games, art, music, math, computer, science, cookery, gardening etc.

We understand the unique intellectual, social, and emotional needs of children are as important as knowing the curriculum we teach. For this reason, our focus is on the education of the whole child through service, character, and academics, so that he or she can reach his / her full potential as respectful citizens of the 21st Century.
Thank You to all parents for being a part of our wonderful school, as partners in the education of your children, you deserve much of the credit.

Yours Sincerely,
Mrs. Law
*********************************************************************************************
Child's Journey to Excellence
Nurturing Active & Competent Young Learners


Greetings to All Dearest Parents, Jan 2017

One of our goals at Tadika Aman Ceria & Playschool is to provide a safe, active learning environment that will empower our children to become creative problem solvers, critical thinkers, and inspired competent learners. We are committed to making every year an exceptional experience for all children.


Parental involvement, partnership, and support are greatly appreciated. Whether it is getting involved in school events, helping children with homework or reading daily with them, all efforts will support academic excellence and children's success.

As partners, we share the responsibility for each child's success. We want you to know that we will do everything to carry out our responsibilities. Through the partnership, we continue to enhance and strengthen the success of our children.

Character Building is an important lesson, to instill values in our children. Topics on respect, responsibility, gratitude, honesty, self-discipline, compassion, dependability. Inculcating these values will protect our children from potentially negative influences. Character education lays the foundation for them to become good citizens.

I am delighted to be Principal at Aman Ceria Kindergarten. It is a real privilege to lead such a committed team, passionate about teaching. Working with excellent staff team we have the ability to ensure that every child achieves the very best.

Our children are the best! They are active, competent, independent learners, respectful, responsible, well mannered, and cooperative. We really enjoy working each day with our children and provide them with the best educational experience.
We invite you to this website and Facebook for continuous updates of activities and events.
To your parenting success!

We Love You
Sincerely,
Mrs. Helen Law


*****************************************************************************************
Celebrating 33 years Strong Record of Excellence
Greetings to our Dearest Parents,

2016 marks the 33rd anniversary of Tadika Aman Ceria & Playschool. In this celebratory moment, we thank you for your contributions to our school, and for
 laying the foundation for our continued success.


Over the past decades, we have educated thousands of 'young leaders'. We create a caring school and enable all children to be successful learners.


Our teachers have always been supportive of the needs of our children who have been working hard. Together, these accomplishments are a testament to the importance of our school and teachers preparation programs.


We will continue to be at the forefront of research, teaching, and community involvement. We will continue to design programs that will best respond to the educational needs of all our children


We look forward to a bright future of the Tadika Aman Ceria & Playschool with optimism, gratitude, and anticipation.


Thank you Sincerely,
Mrs. Law


***********************************************************************************


Children are our Future, W

e are dedicated to their Success
Greetings to our Dearest Parents,
It has been a wonderful year filled with events that have brought us closer together. Aman Ceria has been successful due to the wonderful collaborative partnership between children, teachers, and parents.
It is amazing how much has been achieved in one year. The achievements extend from the academic to sporting events, concert and other fun, learning adventures. We are able to achieve so much because we work together as a team, this is one of our greatest strengths.
Our children meet high standards of performance due to the excellent learning opportunities. We must also recognize children's perseverance, hard-work, and effort displayed throughout the school year.
To our graduates- Congratulations for your achievement. We wish each of you has gained a firm foundation in education, as you move to your new school. We look forward to hearing from you in the future.

To parents- Thank you for supporting your children 's rich, learning experiences. Education is about fostering curiosity, along with the development of social and leadership skills.

Our very best wishes to parents, teachers & children

" Let's enjoy a safe, restful, happy holidays with our families!"
Sincerely,
Mrs. law
***********************************************************************************
Learning Adventures
Our teachers are dedicated to developing children's potential. Here the children are having fun learning.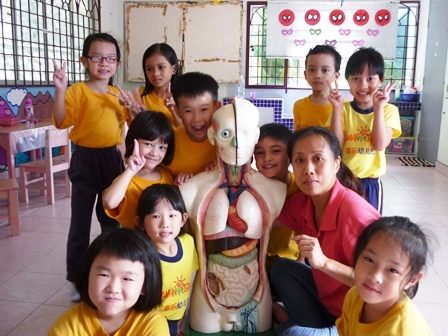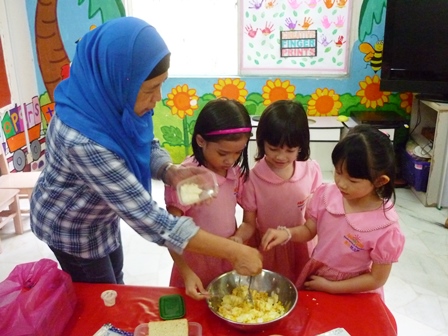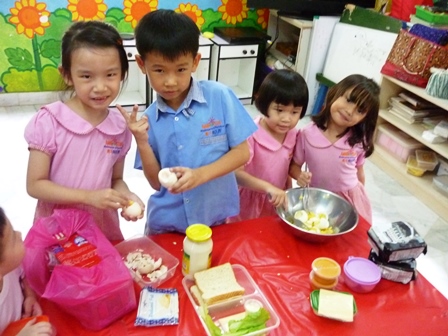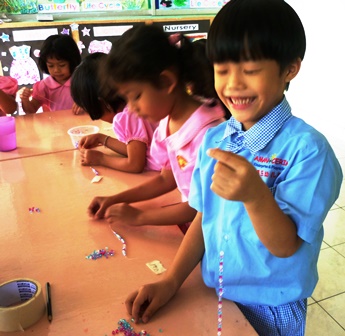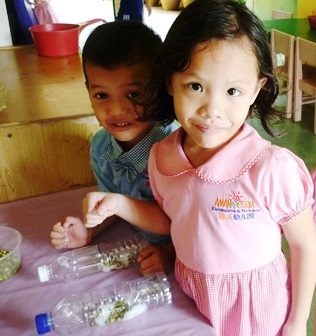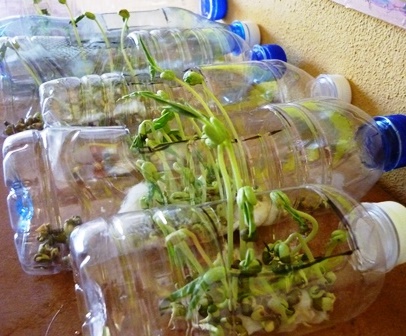 Touching Lives & Building Dreams
Greetings to our Dearest Parents,
October is an eventful month full of engaging activities involving parents and children. This month we celebrate our 33rd Anniversary, in conjunction with our Graduation Day.

Our children demonstrate their artistic talents with an exciting performance 'Colours of Malaysia' The show represents the unity and diversity of our society, helps to spread love and joy among all races. You will certainly enjoy their impressive performances.

We are pleased to announce the debut of our new website, www.amanceria-kindergarten.com. Through this website, we hope to share the exciting learning experiences children are involved in and the many activities that take place. Please use this site to view examples of your children's work, and general information.
As Aman Ceria principal, I am thrilled to be working with dedicated teachers and with so many wonderful parents. It is my pleasure to serve you and a privilege to work with your children.

Our children are renowned for their confidence and independence. We aim to bring the best out in each child to fulfill his and her potential. Our children will acquire knowledge, skills, values, to meet the challenges of an ever changing world. They will have the life skills to lead happy and successful lives.


Your children will see learning as an adventure, both enjoyable and fun! We believe, we are not just doing a job here, but we are 'touching lives and building dreams!"


Yours Sincerely
Mrs. Law