Helping Children Learn in Many Ways

Discover the Joy of Learning


All children are capable of learning in a safe, healthy, and stimulating classroom environment.
They gain understanding of the world and society by exploring materials, engaging in physical activities, and interacting with peers and adults.
Play leads to enormous growth in all aspects of a child's development – cognitive, social, emotional, creative and physical.
We provide children with rich, developmentally appropriate, engaging, and hands-on learning experiences.

Ask-Think-Learn Curriculum
Holistic learning
nurtures the broad development of children. Focus on their intellectual, emotional, social, physical, creative or intuitive, aesthetic and spiritual potentials.

Children learn best through hands-on experiences, opportunities to explore and experiment., therefore we encourage them to be active learners.
Whole Child Learning includes an integrated curriculum, cooperative learning, experiential education, progressive education, critical thinking, character building, home-schooling.
Montessori Learning helps young children to 'learn by doing'. All the materials are self-taught so they can see and correct their own mistakes as they manipulate objects and perfect their skills.
Multiple Intelligences Learning exposes children to a variety of ways of learning. Prof. Howard Gardner identifies eight intelligences and styles of learning. Spatial, Bodily-Kinesthetic, Linguistic, Musical, Logical, Naturalist, Intrapersonal and Interpersonal.
Language Acquisition occurs gradually through interaction with people and the environment. Children learn at different rates. Some are fast language learners and some are slow. The important thing to watch is that language development proceeds steadily.
Cooking and Gardening are woven into academic instruction. A wonderful way for children to discover, explore and learn skills that integrate with several subjects, such as anguage, math, science, art, health, motor skills, social skills, as well as several educational goals, including personal and social responsibility.It's a great way to learn life skills.
Educational Trips play an important role in the curriculum as a vehicle for sensory experiences such as smelling the air, listening to the sounds and talking about things they have seen or have not seen before. Trips are designed to enhance learning and to broaden children's horizons as well as their perspectives. Providing them with first hand experience about things around them in their natural environment.
Holiday Camps learning experiences are positive, creates powerful opportunities for children to acquire and retain knowledge. Motivates children to interact with friends. It is at the camps that children learn to be creative, and develop new skills, under supervision.
Speech and drama cover high impact activities, creative movements, speech, snippets and improvisations. Iinclude singing, listening, rhythm patterning, exploring percussion instruments and musical drama.
Multi-sensory learning caters the different needs and learning styles of learners. Not everyone learns the same way, we need to accommodate different learning style. Some children learn best through visual approaches, others through auditory approaches; yet others through a combination of the two.
The advantage of using visual, audio and tactile materials to support textual ones is that the resulting mixture of styles means that teaching will be appropriate for a wider range of learners.
Practical Life Skills -

Children learn to be more independent.The exercises consist of tasks found in everyday life. Learning involves children in precise movements and allow them to work at their own pace. Children gain knowledge instinctively through active learning. Our educational approach is hands-on, experiential, and investigative.
Music and Movements enhance social skills, coordination, listening and motor skills. Participating in music activities also improves learning skills and memory. Ear training, rhythmic activities, musical instruments and much more!
Multimedia Program - a great support to children learning in the sense that it allows them to access different kinds of information at the same time (words, pictures, audio) and at their own pace. The child sees, hears, imagines... as multimedia is used to bring the subjects to life.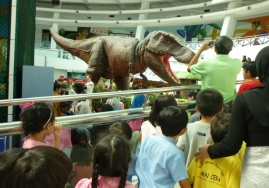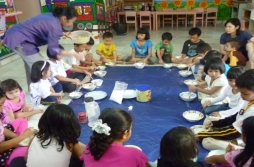 Nurturing Creative & Innovative Young Learners
A

man Ceria

pr

ovides strong foundation that encompasses cultural, social, aesthetic, and physical development



M

ethodologies

to m

eet intellectual, moral, social, emotional, and physical needs of children.

A

cademically focused curricula

, adoptin

g varieties of teaching methods for learning success.

Nurturing in a stress-free environment, for children to learn and grow.


Child-centered curriculum that supports children's own learning, interests and passions.

Enable children to grow as confident, self-reliance individuals.

Respect each child's unique interests, experiences, abilities and needs.

Impact and inspire, intellectual and integrity, life-long learners .

Achieve educational goals through multiple learning both within and beyond the classroom.